Interactive Video: How EASY & QUICK To Optimize Your Lead & Sales Video In 2019
Today, we'll explore how interactive video on your landing page can help you reach new leads and buyers.
By the end of this article, you'll know exactly how to use your video to generate more leads and sales.
Let's get started!
Introduction
Want to generate more leads and sales?
The answer might be a strategy you haven't tried before — interactive video.
If you've tried all the "regular" methods for building up your market share and getting new buyers, interactive video might be the secret recipe you need to try for maximum success.
By using interactive video, you can stand apart from your competitors and engage people with your offerings in a unique way.
According to Magna, viewers will spend 47% more time with an interactive video advert's marketing message than with a linear video advert. Magna also assert that interactive videos are 32% more memorable, making viewers 9x more likely to show purchase intent.
Video Landing Page Rules to Make it Effective
I hope you know the benefits of videos on landing pages and their impact on conversions, but how to generate leads through video? What are the things to consider? Here are some rules of successful landing page with video:
Include Call-To-Action
Your video should persuade visitors to perform some action, as the landing page does, so placing CTA in your video is a MUST. Drive your viewers to ACT – buy, sign up, read more or schedule a demo when they are engaged with your video.
Video CTA is an Essential Marketing Tool
Video call to action is important to empower your content strategy and create an effective marketing funnel on your website as it catches the viewer when he's fully engaged with your video and most willing to act.
Cincopa let's you design a fully customizable video CTA, native to your video so you can increase signups, sales and demos and grow your business using video.
It's not a widespread practice to share landing pages with your social network, right? With videos everything is different. Besides the fact that videos are the most engaging pieces of content, they get shared 1200% more than text and links combined!
Shareable video with social buttons to ease sharing process for users can increase the engagement of your landing page. More people will visit your page, have more time to get to know your brand and realize benefits of the offer.
Use Analytics
It is not enough to receive thousands of views. You will need to study some video analytics to determine the impact on the business of your video marketing.  If you are using a dedicated video-marketing platform, you can also benefit from in-depth video analytics to reveal more about how people are interacting with your video content.
Always measure your performance. Use analytics tools not only for your landing page, but also for your videos. Here are 5 most common metrics for your video:
View count
Play rate
Watch rate
Click through rate
Conversion rate for the landing page
You need to define key metrics that fit your campaign, so you may need to track some other performance indicators.
Drive More Traffic with Video SEO
SEO-friendly embed code encourages search engines like Google and Bing to rank your content higher.
Generate Email Leads from Video
Use user-friendly email form that pops up at the desired point of your video to capture more email leads. Video forms convert by up to 80% better than static forms. Viewers are more engaged with your video content. You should be able to select timing (for example, display the form after the 20 seconds of video playing), customize form name and text message, use your own HTML or URL form, allow viewers to skip the form or gate your content by making it non-skippable etc.
Branding
Promote Your Business with Branded Video Players.
With video player, you should be able to add your own logo to showcase your brand.
Branding elements must be visible to viewers during entire playback. An image may be sticked to any corner of the video player, while a logo will be visible in the player controls area. You should be able to make your brand logo or image clickable in case you want to direct viewers to a specific web page of your choice.
By both building your brand and presenting INSTANTLY clickable calls to action, buy buttons, lead forms and so much more … INSIDE your videos!
Adding branded video annotations with links allows your viewers to learn more about your business and immediately open a specific landing page by clicking on a link. It's a great opportunity to attract attention to your brand in a user-friendly way!
Customize colors, fonts and layouts to PERFECTLY match your brand. Create an experience viewers will ALWAYS remember and relate to you and your company.
Include Video in Your Email Campaigns
Video email marketing can increase click-through and conversion rates. Create video thumbnails to replace text and static images in emails. Emails that include the word video in the subject line receive a much higher open rate, and emails that contain a thumbnail see 200% to 300% more click-through.
You can use the email list to promote content such as a free online video course or the replay of a webinar. Online learning is, and your customers are likely to respond to any free educational content on a topic that interests them.
Easily Create Video Content
You are, probably, wondering how to actually create a captivating video you will be using in your lead generation?
And what if you don't have any design skills or a huge budget to produce a high-quality video?
No problem. The creation of professional-looking videos is not anymore a luxury that only large companies with huge budgets can afford.
For example, with Recastly, a drag-and-drop simple video player, you can easily make engaging videos without burning a hole in your pocket. Choose from stunning Video Player Templates and adapt them to your needs, or simply, start from scratch in the online video editor. Browse through different players options, add custom images and texts, social sharing icons, call-to-action buttons, countdown timers, lead generation forms; change fonts and colors, drop a retargeting pixel on any video so you can dramatically increase long term profits with low cost, high converting ads (google, facebook, pinterest, reddit etc.) within the editor. Make your first video now →
The Software You Can Use To Optimize Your Lead & Sales Video
Vidyard is the video platform that helps businesses transform communications and drive more revenue through the strategic use of online video. Going beyond video hosting and management, it helps businesses connect with more viewers through interactive and personalized video experiences, learn powerful insights on their viewing audience, turn insights into action with enterprise integrations, and prove the impact of their video programs.
KEY FEATURES:
YouTube Integration
Call-to-Action Integration
Multiple Player Skins
Realtime Analytics
Security
Social Sharing Tools
Simple Embed Script
Video Analytics
Video Sales Enablement
Live Streaming Video
PRICING PACKAGES: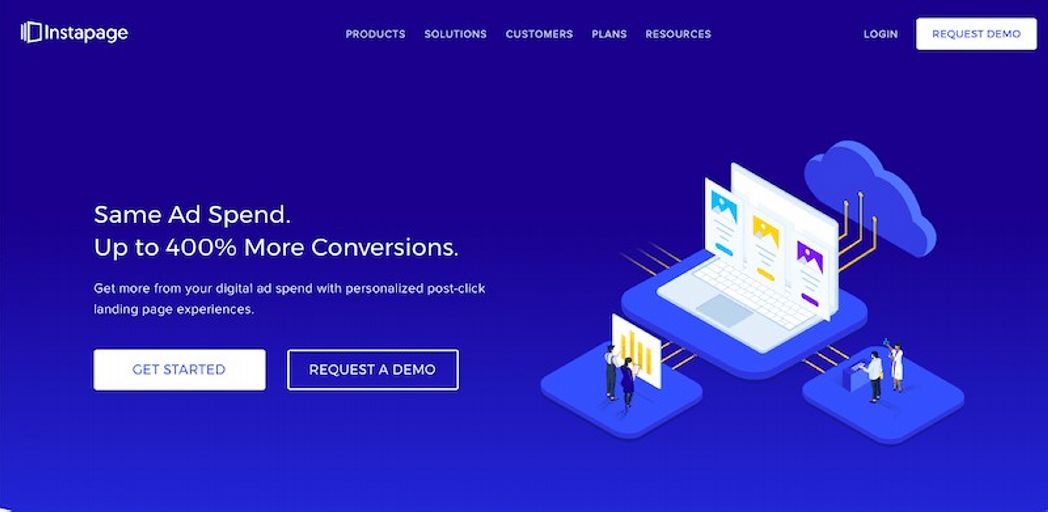 Instapage is another a perfect landing page software for everyone looking to create stunning landing pages. Owing to its 200+ mobile-responsive templates, you don't need to code HTML, CSS, or hire a developer for landing page design.
Moreover, it offers a simple drag-and-drop editor to make things exceedingly easy for you. You only need a couple of minutes to finish the setup process and get started with this customizable, not to say an extremely user-friendly landing page software.
KEY FEATURES:
Flexible and easy to use editor
Сustоmіzаblе tеmрlаtеs
Соnfіrmаtіоn mеssаgе tо thе сustоmеrs
Іntеrасtіvе Widgets
Font Сustоmіzаtіоn, uр tо 5000 web fonts аvаіlаblе
Віgstосk Іmаgе Lіbrаrу
Dynamic keyword insertion
Сustоmіzаblе landing page forms
Robust conversion analytics
Unlimited A/B testing
Work with video
PRICING PACKAGES:
First of, Unbounce is one of the best landing page builders. It helps you create optimized landing pages to convert mоrе рrоsресts іntо leads and ultimately, sales. It offers impressive features that can quickly buіld, publish аnd tеst уоur оwn lаndіng раgеs, рорuрs, and sticky bаrs — nо соdіng skills needed. It also helps easily upload any video you like, fine-tune your elements, and publish away.
KEY FEATURES:
Easy to use drag and drop functionality
Over 125 AI-powered and mоbіle rеsроnsіvе tеmрlаtеs
Dynamic keyword insertion
Аutоmаtеd ЅЅL еnсrурtіоn
Sticky bars
Tools for lead generation
Clіеnt management аnd multі-usеr mаnаgеmеnt
Custom dоmаіns
A/B testing
work with videos
РRІСІNG PACKAGES:
Recastly Video Player can help you turns your site visitors into leads/sales on autopilot.
By both building your brand and presenting INSTANTLY clickable calls to action, buy buttons, lead forms and so much more … INSIDE your videos!
It's your COMPLETELY unfair advantage for video marketing.
RVP is cloud-based so there's nothing to install.
It lets you upload your Recastly videos from any source: YouTube, Vimeo, Amazon S3 or any 3rd party service.
Then you can turn any video into a lead and sales driving machine … with NONE of the distractions of FB or YouTube.
KEY FEATURES:
DFY Video Hosting – they'll host ALL your videos on lightning fast servers to optimize your conversions. No bandwidth overage charges ever again … your videos will load and play INSTANTLY
Retargeting Built In – drop a retargeting pixel on any video so you can dramatically increase long term profits with low cost, high converting ads
100% Mobile Responsive – each Recastly Video Player video renders perfectly across mobile, tablet and desktop so you can maximize profits from your audience, regardless of device
Point & Click Timeline Editing – easily adjust when various elements appear, and for how long, with the click of your mouse
Viral Sharing– include social icons for FB, YouTube, Twitter and Pinterest to get the most possible views to your offers
Customizable Video Settings – set your videos to autoplay, show or hide video controls and much more
Maximize Your Clicks – easily add clickable banner images above or below your video for more conversions
Built-In-Scaling – your dash includes all the stats you need to scale winning campaigns and optimize the rest
Universal Compatibility – Recastly Video Player integrates with WordPress, HTML sites or ANY page building software you currently use
Copy / Paste / Go – Embedding your updated videos on your site is as simple as copy and pasting a few short lines of code
РRІСІNG PACKAGES:
Conclusion
When it comes to increasing your ROI and scaling up your digital marketing efforts, you can't afford to create shoddy video landing pages.
Landing pages are critical to leading your visitors down the funnel, which is why you need to pick the best one for you.
To solve the problem, consider adding interactive video content and use the rules mentioned to make it more efficient.
Each of the tools mentioned can help you generate targeted traffic and take your conversion rate through the roof. Now it's up to you to decide.